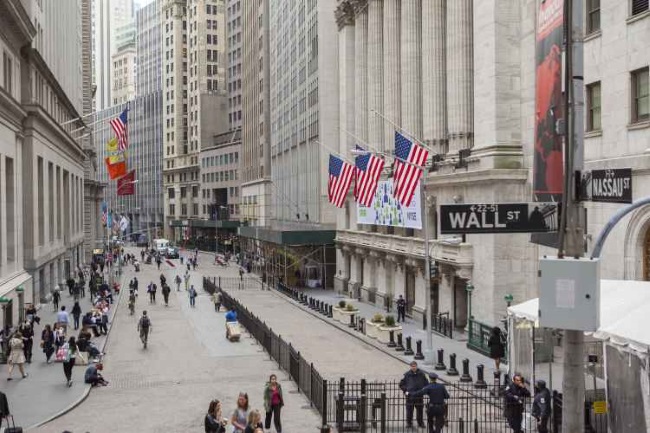 Stocks in Asia traded down Wednesday morning after an overnight plunge on Wall Street as investors worried about a potential economic slowdown and the state of the U.S.-China trade war.
The mainland Chinese markets, closely watched in relation to Beijing's ongoing dispute with Washington, slipped into negative territory in early trade. The Shanghai composite declined 1.09 percent while the Shenzhen composite fell by 1.586 percent.
The Caixin Services Purchasing Managers' Index, which measures economic activity in China's services sector, rose to 53.8 in November — its highest in five months — as compared to 50.8 in October.
Meanwhile, the Hang Seng index in Hong Kong also fell by 1.59 percent.
Elsewhere in Asia, Japan's Nikkei 225 slipped 0.76 percent in morning trade while the Topix shed 0.81 percent. The losses were also seen in South Korea, where the Kospi declined by 0.83 percent.
In Australia, the ASX 200 fell 1.38 percent in afternoon trade, with almost all sectors trading lower. The moves came after the country's gross domestic product (GDP) data for the third quarter came in below expectations.
Real GDP expanded 0.3 percent on-quarter in the three months through September and 2.8 percent on-year, according to data released by the Australian Bureau of Statistics on Wednesday.
Economists polled by Reuters had expected 0.6 percent growth on quarter and a 3.3 percent on-year increase.
Following the release of the data, the Australian dollar fell more than 0.5 percent before a slight recovery to trade around 0.37 percent lower at $0.7310. It had earlier seen a high of $0.7355.
Banking and financial stocks in the region sold off, taking cues from the U.S.
Japan's Mitsubishi UFJ Financial Group fell 1.38 percent while Nomura declined by 3.02 percent. In Hong Kong, HSBC fell 1.98 percent while China Construction Bank shed 1.76 percent.
Australia's financial subindex was down 2.22 percent as shares of the so-called Big Four banks declined: Australia and New Zealand Banking Group shed 2.05 percent, Commonwealth Bank of Australia declined 2.07 percent, Westpac traded down 2.12 percent while National Australia Bank lost 2.05 percent.
Wall Street takes a dive
(Source : CNBC)