China's yuan strengthened the most against the dollar in a month, unperturbed by the central bank's monetary easing amid signs of an economic slowdown.
The Chinese currency was up 0.38 percent at 6.8452 per dollar as of 1:39 p.m. local time, its biggest gain since Dec. 4. That's also its strongest level in nearly five weeks. The currency has now advanced nearly 1 percent since mid-December. The greenback, meanwhile has weakened against most major currencies, falling to a more than two-month low Monday on prospects the Federal Reserve may take a slower approach to rate hikes.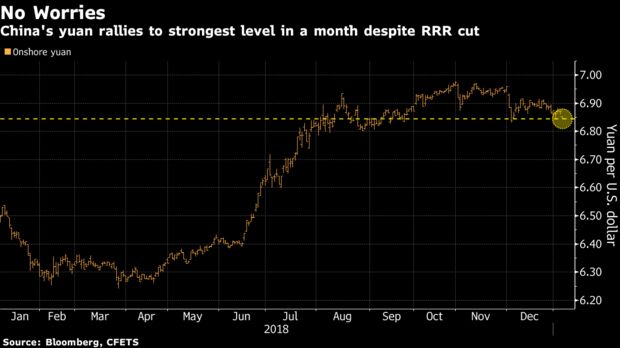 "Market sentiment has improved," said Gao Qi, a strategist at Scotiabank. "The reserve requirement ratio cut has raised hope that the economy will get better, and investors expect the yuan to remain steady as China and the U.S. hold trade talks in Beijing this week."
The People's Bank of China said Friday evening that it would cut the amount of cash lenders must hold as reserves. The goal is to release more liquidity and offset a funding squeeze ahead of the Spring Festival holiday, which falls early next month. The yuan pared some gains after the announcement, but still finished the day up 0.03 percent.
The currency could rise to 6.7 or 6.8 per dollar in the next two months, Singapore-based Gao said, adding that he was optimistic the U.S. and China will make progress toward a trade deal in that time.
The offshore yuan also strengthened Monday, taking its two-day gain to 0.54 percent, and reaching its highest intraday level since Dec. 4. China's stock market wasn't quite as enthused -- the Shanghai Composite Index mustered a 0.5 percent gain as concern over the country's slowing economy continued to weigh on sentiment.
Source: bloomberg.com