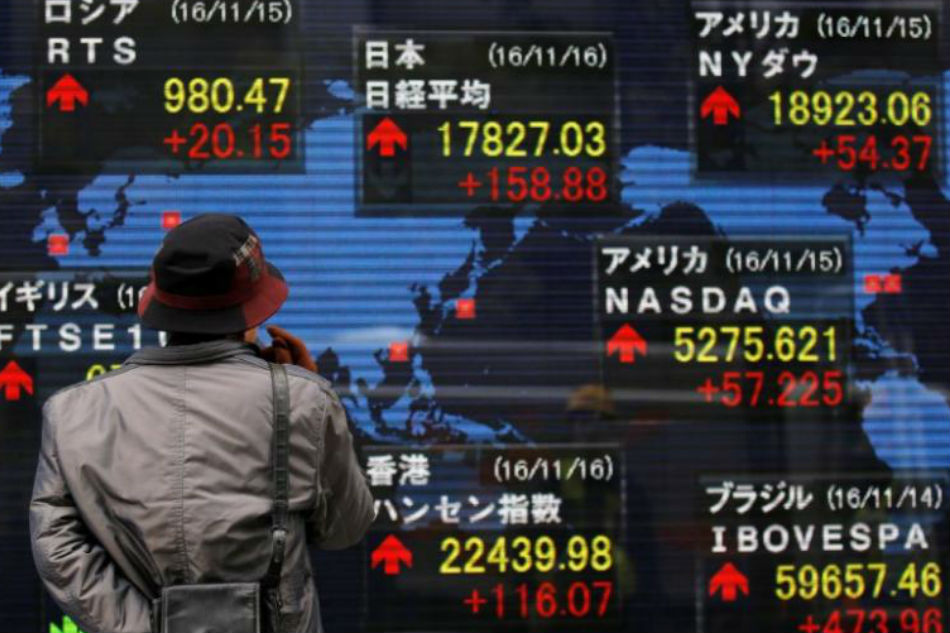 Asia stocks were mixed on Friday morning following another tumble on Wall Street overnight, with the Dow Jones Industrial Average dropping by more than 500 points.
In the Greater China region, Hong Kong's Hang Seng index advanced by 0.49 percent in early trading action. Over on the mainland, the Shanghai composite slid by 0.23 percent while the Shenzhen composite saw a decline of around 0.56 percent.
The ASX 200 saw a partial recovery to trade slightly lower in morning trade after losing 0.52 percent earlier in the session. The energy sector was lower by 1.98 percent, while the heavily weighted financial subindex fell by 0.91 percent.
Shares of major banks Down Under fell, with Australia and New Zealand Banking Group down by 1.15 percent and Commonwealth Bank of Australia declined by 1.15 percent. The move in ANZ's stock came following an announcement by its chief executive that the bank had fired over 200 staff for wrongdoing.
In Japan, the Nikkei 225 slipped by 0.35 percent in morning trade while the Topix index fell by 0.6 percent, as most sectors continued to trend lower.
Over in South Korea, however, the Kospi bucked the overall trend of the morning to trade up by around 1 percent, with chipmaker SK Hynix advancing 4.49 percent.
Wall Street stock rout continues
Overnight on Wall Street, stocks continued to dive for the second straight day. The Dow Jones Industrial Average dropped by 545.91 points to close at 25,052.83, while the S&P 500 fell by 2.1 percent to end the trading day stateside at 2,728.37 — below its 200-day moving average for the first time since April. The Nasdaq Composite also declined by 1.3 percent to close at 7,329.06.
Commenting on the plunge in stocks stateside, U.S. President Donald Trump said on Thursday from the Oval Office: "It's a correction that I think is caused by the Fed and interest rates."
Trump said he believes the U.S. central bank's monetary policy "is far too stringent," adding that "they're making a mistake and it's not right," and saying he was "not going to fire" Federal Reserve Chairman Jerome Powell.
White House economic advisor Larry Kudlow also told CNBC on Thursday "there's some movement" toward a meeting between Trump and Chinese President Xi Jinping in Argentina at the G-20 summit in November, though the talks and topics to be addressed by the two leaders have not "been set in concrete."
At the same time, the most widely watched measure of investor fear jumped again on Thursday. The CBOE Volatility Index, popularly known as the VIX, gained about 8.8 percent to 24.98 — its highest level since the end of March. The VIX measures implied volatility on S&P 500 index options.
The futures market, however, suggested that a recovery could happen in the next trading session stateside. As of 9:41 p.m. ET, the Dow Jones industrial average futures was up by 161 points, indicating a gain of 288.17 points at Friday's open. S&P 500 and Nasdaq 100 futures also pointed to solid gains to start off Friday's session.
source: CNBC