Asian equities dropped in the wake of the biggest slide in stocks on Wall Street since mid-October. U.S. futures advanced after China pledged to quickly implement some steps on trade in the wake of the weekend summit in Buenos Aires. The dollar ticked up.
Stocks fell in Japan, Korea, Australia and Hong Kong, though declines were less than the 3.2 percent tumble in the S&P 500 Index. U.K. stock futures slumped. After days of silence on Saturday's agreement between Presidents Donald Trump and Xi Jinping, China's Commerce Ministry said trade negotiations will proceed based on a timetable and it will swiftly execute on items where there is consensus. For his part, Trump tweeted there will be a "real deal" with China, or none at all. China's yuan gave up some of its recent surge.
Putting a damper on any trade optimism has been a sharp decline in 10-year Treasury yields, to 2.91 percent, which has further flattened the yield curve and served warning that bond traders are anticipating weaker growth. That's even after Federal Reserve Bank of New York President John Williams on Tuesday reiterated his support for further interest-rate increases and gave an optimistic view of the economy.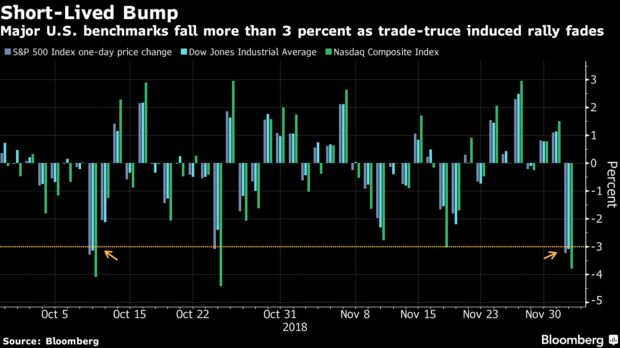 The shrinking gap between short-dated U.S. yields and long rates hammered financial shares on Tuesday, and a similar dynamic was seen in Tokyo Wednesday as already-ultra-low Japanese 10-year yields dropped. Treasuries aren't trading Wednesday, with U.S. stocks also suspended for a holiday marking the passing of former President George H.W. Bush.
Despite recent official data showing continued solid U.S. growth, some traders are betting that the Fed will cut interest rates as soon as 2020. The swaps market has brought forward the timing for when it sees the hiking cycle peaking, toward the end of 2019 or early 2020, a period when the Fed's own projections indicate tightening will still be under way.
Sinking U.S. yields have been a boon to emerging markets, which have suffered with higher dollar borrowing costs and an appreciating greenback this year. The MSCI Emerging Markets Index of stocks has advanced more than 2 percent in the past week, while the S&P 500 Index is up just 0.7 percent.
"Under the hood of the volatility there are some important changes happening here," said Jonathan Garner, chief Asian and emerging markets equity strategist at Morgan Stanley in Hong Kong, on Bloomberg Television. "We're eking out alpha in terms of outperformance" of emerging markets versus U.S. stocks "on almost a daily basis," he said.
Elsewhere, Australia's dollar slid after weaker-than-anticipated economic growth for the third quarter. Oil prices fell back below $53 a barrel in New York.
(Source : Bloomberg)